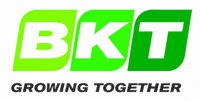 BKT
AS-504
10.0/75 -15.3 123/111A6 10PR TL
Tyre size
10.0/75 -15.3 123/111A6 10PR TL
Change
Type of Tyre
All-season tyres
AS 504 is an agro-industrial tire mainly designed for transport and soil tillage operations. In some sizes, AS 504 is suitable for loading and hay harvesting applications. This tire, which features excellent self-cleaning properties and increased grip, is ideal for muddy grounds. There are several versions of the AS 504 tire to meet specific end-user requirements.
*Prices include VAT and delivery within Ireland.
**More than 90% of our orders reach the customer in the specified delivery time.