Uniroyal Tyres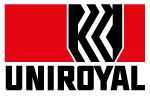 Uniroyal tyres – a history of progress
When it comes to progress, Uniroyal (United States Rubber Company) is exactly how the name claims to be: royal. It was established in 1892, so the company had over 120 years to polish their technique and provide only high-quality products. They do not only provide tyres like most businesses do; they offer footwear, maintenance accessories as well as ammunition and explosives for military use. In 1990, the brand went under the "tutelage" of Michelin, which only furthered its progress. Nowadays, Uniroyal tyres are present on most muscle and sports cars. One of the brand's most recognised tyres is the Tiger paw, a model which was actually used as a brand name to promote the line.
Uniroyal tyres – down to the quality
Uniroyal provides all types of tyres going from winter to summer and
all season
. Depending on the region you live in, you can be sure that every type you buy will keep you steady on the road. The
summer tyres
, for instance, were made with a special rubber compound that will prevent the item from losing its shape and pressure – therefore improving your grip on the road. The
winter tyres
, on the other hand, are made with a special silicate rubber which will keep the product from hardening and cracking in low-temperature conditions. It will be nice and flexible, with the grooves nicely placed to provide traction. You can find these Uniroyal tyres on
eiretyres.com
, the online tyre retailer that will offer you low prices for a great variety of products.