Michelin Remix Tyres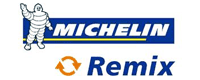 MICHELIN Remix tyres – choosing from a broad variety
Based in Clermont-Ferrand, France, Michelin is one of the tyre manufacturers that manage to compete with Goodyear and Bridgestone. Along with the specific Michelin brand, the company also owns other brands such as Kleber, Uniroyal and Tigar. Although the company also provides travel guides and roadmaps, it is mostly notable for its production of tyres (removable, pneurail and radial). Whether you need some MICHELIN Remix tyres for your car, truck or train, you have many options to pick from.
MICHELIN Remix tyres – a hot process
When they process the tyres for a vehicle, manufacturers need to keep in mind the purpose and the season for the tyres. For example, if it is a summer tyre, the material needs to be sturdier, fixed, to keep up with the heat provided by both the weather and friction. On the other hand, winter tends to do the opposite thing for your tyres – freezing them to the point where they get stuck. This is why the material needs to be more flexible, preferably mixed with silica and deep patterns for traction. Look through the tyre collection on mytyres.co.uk and choose an appropriate set of tyres at a good price.