Effiplus Tyres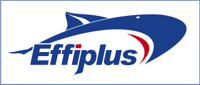 Effiplus tyres – gratifying quality at an affordable price
Effiplus is a tyre solution provider, which strives to provide excellent value for the money paid. Each product goes through an extensive range of tests, which aim at enhancing the quality and the safety of the products. At the same time, the company treasures the environment and recognises that we should cherish and protect it. On that account, the department of experienced engineers is always eager to improve the performance of the tyres, always considering the purpose for which they were created. Whether we're talking about Effiplus tyres designed for all-weather conditions, or for winter or summer, the materials used are durable and stand the test of time. Effiplus concentrates on furnishing satisfying quality, at an unbeatable rate.
Effiplus tyres – evaluate your car's performance on the road
Depending on your driving conditions, you ought to choose your Effiplus tyres accordingly. A high-quality product ensures a good grip in dry and wet conditions alike, and excellent braking performance and steering precision. If your priority is to safeguard the security of your entire family while on the road, we recommend you to make an investment in a high-quality set of tyres, such as the ones you can find on mytyres.co.uk.