Bandag Tyres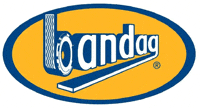 Bandag tyres – a renowned name in the world of re-treads
Bandag is acknowledged as a competitive player in the domain of tyre re-treads. In fact, for over 60 years now, Bandag has been focusing on promoting innovation, being committed to delivering top-of-the-line products. That being said, Bandag tyres perform impeccably, similar to new tyres, at a fraction of a price. The manufacturer aims at developing specialised tread patterns that address the individual driving specifications of every terrain. At the same time, by using next-generation compounds, Bandag tyres will withstand wear and tear, while delivering more mileage. With the implementation of innovative designs, you can benefit from lower rolling resistance, fuel efficiency, which diminishes the overall expenses linked to car ownership. That being said, Bandag's expertise and commitment to addressing the needs of the customers makes it a top manufacturer.
Bandag tyres – an environmentally-friendly alternative
Being fully aware of the importance of protecting the environment is every driver's responsibility. And Bandag wanted to do something in this respect, by aiding drivers to go green. To be more precise, Bandag's re-tread process has saved no less than 300 million tyres from the waste stream. This way, it saved approximately 4 billion gallons of oil, while enabling customers to enjoy top products at a low cost. Belonging to the large Bridgestone family, Bandag is committed to protecting the environment and offering drivers the chance to choose this path, as well. If you think Bandag tyres are the right accessories for you, scan through our range of products available on
eiretyres.com
!