BKT Tyres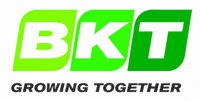 BKT tyres – high-quality off-highway tyres
BKT, or Balkrishna Industries Limited, is a tyre manufacturer from Mumbai, India. It manufactures tyres for exclusive use in domains like earthmoving, mining, gardening and agriculture. Of course, needless to say, it's specialised in off-highway tyres. The tyres made by BKT are radial, which instantly means better tread and longer life-expectancy. Let's give you a hint of how tough the BKT tyres are – it's the sponsor (the exclusive one) for Monster Jam. If you hold durability in high regards, it's less likely you'll ever find better tyres than the ones manufactured and provided by BKT. Is there any need to say that BKT is among the greatest tyre manufacturers worldwide?
BKT tyres – extreme performance in extreme conditions
Whether you own a tractor, a compact loader, a harvester, tanker, spreader, trencher or any other type of agricultural vehicle, you'll need tyres at some point. Of course, tyres for these types of vehicles are a lot more costly than the ones for small cars. That's why you should purchase those that are similar to making a long-term investment. You can't afford to change the tyres once every two months because you keep on buying low-quality ones. BKT tyres are known all over the world for being almost indestructible. Once you've equipped your vehicle with these items, you can rest assured that they will last for years. The sheer amount of vehicles for which BKT manufactures tyres ensures that you'll definitely find the fitting ones for your car. Look for them on
eiretyres.com
.