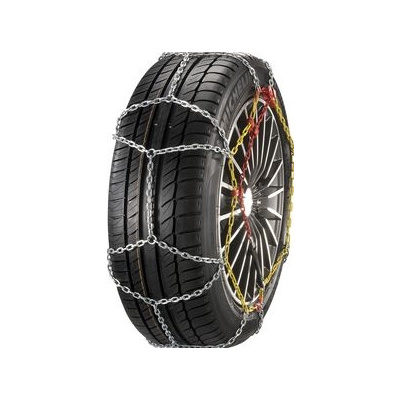 Maggi XS-9 100
Item number:CANEXS9100
DC-Item number:DPS-15479590
R14
: 215/70-R14, 245/60-R14, 255/60-R14, 265/75-R14
R16
: 195/80-R16, 205/65-R16, 205/70-R16, 215/60-R16, 225/55-R16, 235/50-R16, 245/45-R16
R15
: 195/80-R15, 205/75-R15, 215/70-R15, 225/65-R15, 235/60-R15, 245/45-R15
R18
: 205/45-R18, 225/35-R18, 225/40-R18, 225/45-R18, 225/50-R18, 235/40-R18
R17
: 205/55-R17, 215/50-R17, 225/50-R17, 235/45-R17, 245/40-R17
XS9 is the basic snow chain that should never be missing in the product range of a quality manufacturer.
It represents the best compromise between tradition and modern times, for the car fleet on the road (9 mm encumbrance).
V5 is the basic chain for vans and commercial vehicles, even if it is often used on SUVs and Jeeps thanks to its versatility.
Convenient and easy to use, it is available at a fair price.
In conclusion, Quad is the solution for all-terrain vehicles, result of design experience of Maggigroup® concerning special tires.