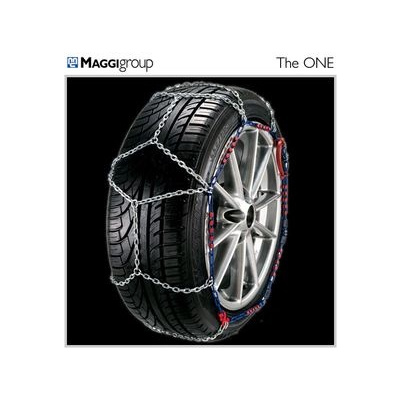 Maggi The One 95
Item number:CANEPAL095
DC-Item number:DPS-15479493
R16
: 185/80-R16, 195/75-R16, 215/55-R16, 225/50-R16, 235/45-R16, 235/55-R16
R15
: 195/75-R15, 205/70-R15, 215/65-R15, 225/60-R15, 235/50-R15, 235/55-R15
The One & 4all are chains based on a patented and proprietary innovative technology that foresees the interposition of ball-shaped elements among the chain links to create a self-tensioning effect.
This technology is combined with elements such as levers and tightening discs, already used in the past, but reviewed and re-interpreted to better serve the new technology.
Compared to mechanical self-tensioning systems, THE ONE & 4ALL ensure simple operation in any condition, they are resistant to corrosion and safe when operated, since they do not boast metal return devices.
The One 7 for cars rappresents the best solution to fit on the vehicle that require reduced encumbrances (only 7 mm on tread and 7 mm on cable).
The special level with added tightening discs and elastomers allow the self-tensioning on the tyre and guarantee a safety driving on the road.
The new conception chain is provided in a clever design box.